Collar Zipper Long-Sleeved Yoga Clothes
Regular price
79.00 $
Sale price
49.00 $
Save 30.00 $
/
---
In stock, ready to ship

Inventory on the way
Collar Zipper Long-Sleeved Yoga Clothes
Introducing our Stand Collar Zipper Long-Sleeved Yoga Clothes, designed specifically for female athletes and fitness enthusiasts who demand both style and performance. This high-intensity sportswear is perfect for a variety of activities including yoga, exercise, running, and more.
One of the key features of these yoga clothes is their moisture absorption and sweat-wicking function. The fabric is engineered to draw moisture away from the body, keeping you dry and comfortable during intense workouts. Stay focused and motivated as the fabric quickly evaporates sweat, allowing for optimal performance.
We understand the importance of a perfect fit, which is why we have ensured an error range of 2-3cm in the garment"s measurements. This ensures that you can find the ideal size that provides both comfort and freedom of movement.
Our yoga clothes are suitable for all seasons, including summer, winter, spring, and autumn. The breathable fabric allows for proper airflow, keeping you cool in hot weather and providing insulation during colder months. This versatility allows you to stay active and comfortable all year round.
The fabric used in these yoga clothes is a high-quality polyamide ammonia blend. With its composition primarily consisting of nylon (78%), it offers durability, flexibility, and a soft touch against the skin. Experience the perfect balance of comfort and functionality.
Featuring a stand collar and a zipper closure, these long-sleeved yoga clothes provide added style and convenience. The long sleeves offer extra coverage, while the pullover design ensures a secure and comfortable fit. The waist-length design adds a touch of modernity and versatility to your workout wardrobe.
With its tight-fitting clothing version, these yoga clothes offer a sleek and slimming appearance. Embrace your curves and feel confident during your workouts, knowing that you look and feel your best.
Upgrade your fitness wardrobe with our Stand Collar Zipper Long-Sleeved Yoga Clothes. Experience the perfect blend of style, functionality, and comfort as you take your workouts to the next level. Invest in quality sportswear that supports your active lifestyle and helps you achieve your fitness goals.
Size

Length

Shoulder

Sleeve

Bust

Hem

S/8

38

31

60

69

62

M/ 10

39

32

61

73

66

L/12

40

33

62

77

70

XL/ 14

41

34

63

81

74

Note: All goods are measured by hand tiling. Due to different measurement methods, there will be 1-3 cm error.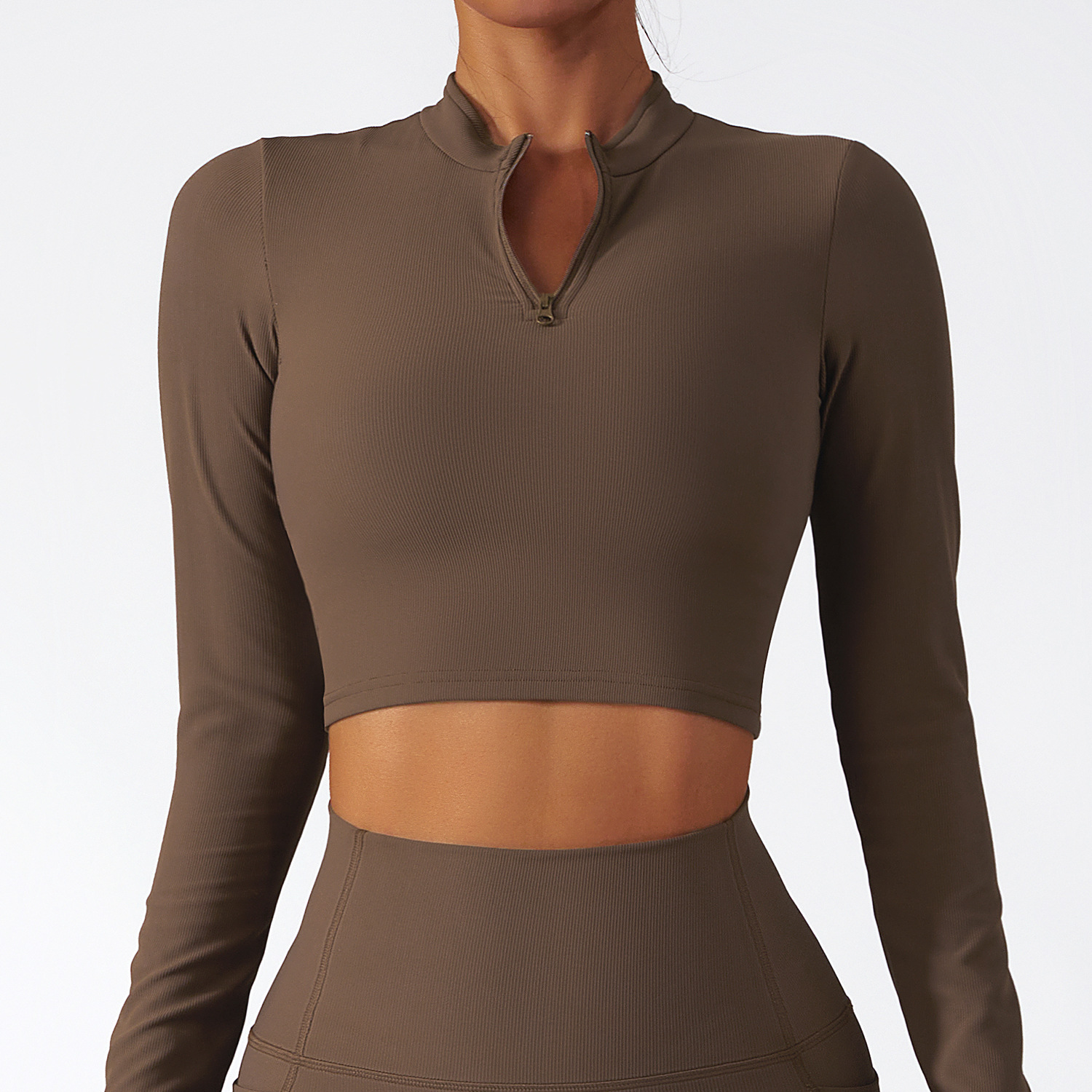 The best way to wash leggings properly is to follow the instructions below: Check the label: Read the care label on the leggings for specific manufacturer instructions. The label gives you information about the recommended washing conditions and temperature. Sort the colors: Sort the leggings by color to minimize the risk of discoloration. Wash dark leggings separately from light or white leggings. Close Zippers and Velcro: Fasten any zippers, hooks, or Velcro to other garments of clothing, washing machine, zippers. Pre-treating stains: Treat any stains with a mild stain remover or soap before washing. Proper Wash Cycle: Allow the product to soak for a few minutes before proceeding with the wash cycle. Choose: As a general rule, wash leggings on the gentle or delicate cycle of your washing machine. Use cold or lukewarm water to maintain elasticity and color. Use a mild detergent: Use a mild detergent specifically designed for delicate fabrics. Do not overdose the detergent, as this can leave residue. Avoid fabric conditioners: Leggings made of stretch materials retain their elasticity better if you do not use fabric conditioners. Fabric softeners can also leave residue and affect the leggings' ability to breathe. Hand Wash Option: If you want to be extra careful, leggings can also be hand washed. Fill a sink or tub with cold water and mild detergent. Gently knead, rinse and gently squeeze to remove excess water. Drying Leggings: Leggings should not be tumble dried as the heat can damage the elasticity. Lay the leggings flat on a towel or drying rack and let them air dry. Ironing: Generally, leggings do not require ironing. However, if you want to remove the creases, turn them inside out and iron at a lower temperature. Avoid direct contact of the iron with elastic cuffs or details. By following these instructions, you can ensure that your leggings will keep their fit, elasticity and color for longer.